Philadelphia Surgical Error Lawyer
Unfortunately, surgical injuries are relatively common in the United States. According to the National Practitioner Data Bank's medical malpractice statistics, more than 250,000 people die every year from medical errors. One of the risks of surgery presented to a patient prior to his or her operation, is surgical injury to some of the surrounding anatomical structures. There is always a chance that the knife can slip, even under the most careful of hands. Cases of surgical negligence become viable medical malpractice cases when the surgical injury is either not appreciated or worse, ignored. When this happens it's best to have a qualified Philadelphia surgical error lawyer on your side to fight for the compensation you deserve.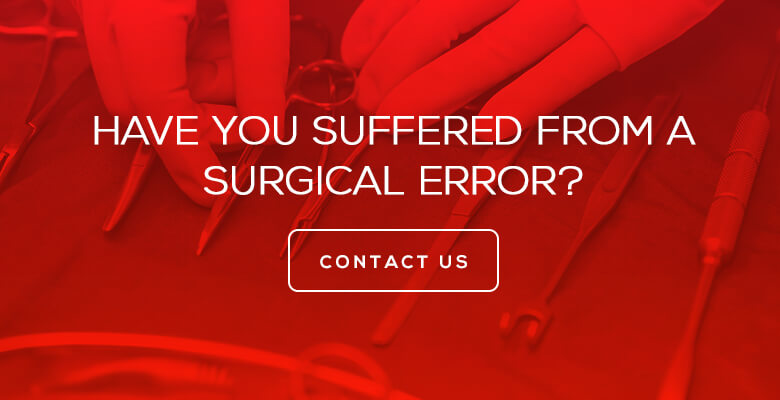 Why Hire Our Surgical Error Lawyer?
Hiring an attorney is a major decision, and you need to find one with the necessary resources and experience to guide you to an acceptable result.
Rosenbaum & Associates focuses on surgical error lawsuits giving our firm an unmatched level of experience in this area of law. Unlike other firms that handle various cases with no area of specialization, we offer stellar experience in medical malpractice cases for focused, comprehensive legal representation.
We understand the complexities of medical malpractice cases and help our clients explore all available avenues of compensation in their claims. Surgical errors can lead to thousands of dollars in unexpected medical bills, missed time from work, and even permanent disabilities that interfere with future earning capacity.
Our firm has more than 50 years of experience handling medical malpractice lawsuits all over the United States. We understand how Pennsylvania courts handle these claims and have a large network of professional contacts throughout the state.
We believe in comprehensive and aggressive legal representation on behalf of our clients. We strive to maximize our clients' recovery in every case we take.
Our firm handles every case on a contingency fee basis, meaning our clients pay nothing unless we win.
Rosenbaum & Associates can handle the most complex surgical error lawsuits, including those revolving around surgical errors. When a surgeon or a member of a surgical team makes a negligent mistake and harms a patient, we can help the injured patient hold the responsible party accountable for the damages caused.
What Is a Surgical Error?
"Surgical error" is a relatively broad term that can apply to any situation in which a surgeon makes a mistake during an operation. Medicine is an inherently uncertain field and some honest mistakes are to be expected. However, a surgeon should only proceed with an operation after solidly confirming the procedure is necessary and in the best interests of the patient. Surgical errors may not only include physical mistakes that cause injuries, but also failure to warn a patient of known risks of a surgery or improper administration of anesthesia during surgery.
The root of any surgical error lawsuit is medical negligence, or one medical professional's failure to exercise reasonable, professional care and meet the standard of care for a patient's condition. Every medical malpractice lawsuit must go through a review process from the relevant medical board to determine if malpractice occurred, and the plaintiff may proceed with his or her lawsuit if the board determines there are legitimate grounds for legal action.
If a surgeon cuts the wrong structure and fails to diagnose it, that is negligence. If a surgeon cuts a structure without properly identifying that it's causing harm, that can be negligence as well. On the other hand, if a surgeon cuts the wrong structure during surgery, immediately recognizes and does everything he can to repair it, that will present a much more difficult case of negligence to prove.
Many times, the surgical error is apparent in the dictated operative note. The records must be carefully examined in order to determine whether there was a deviation from the standard of care causing injury.
According to research from Johns Hopkins University, events that should never happen during surgery, occur about 4,000 times per year throughout the U.S making medical malpractice the third leading cause of death.
Who Is Liable for a Surgical Error?
In most surgical error cases, the medical professional responsible for the error absorbs liability for the victim's damages. However, some surgical error cases may involve multiple defendants, or a hospital or surgical center may absorb vicarious liability for the actions of an employed surgeon. An employer can face liability for the negligent actions of an employee as long as the employee committed the negligent act in the process of discharging his or her job duties.
A hospital or surgical center may also face its own negligence for failure to properly vet a surgeon's credentials. For example, if a surgical center allowed a new surgeon to perform a complex procedure without verifying the surgeon's credentials, the surgical center would likely face liability for the resulting damages.
Common Surgical Errors
Our Philadelphia medical malpractice attorneys have experience handling cases involving some of these common surgical mistakes:
Wrong-site surgery – operating on the wrong area of the body.
Wrong surgical procedure – this can include removing the wrong part of the body, such as limbs, organs, and tissue.
Surgical instrument left in the body – retractors, sponges, and surgical towels can all be left in the body. According to the Centers for Disease Control, approximately 15,000 surgical patients have had a surgical instrument left inside their body in the past few years.
Surgery unrelated to the patient's diagnosis.
Wrong patient surgery.
Damage from a planned surgery – this can occur when damage is not a risk that was explained to the patient before undergoing surgery.
Free Consultation with a Philadelphia Surgical Error Attorney
Our legal team at Rosenbaum & Associates is dedicated to helping surgical error victims recover compensation for their pain and suffering. With questions such as who will pay your medical bills, how to file a surgical error case, and how to receive compensation – medical malpractice cases can be very confusing. Call an experienced Philadelphia surgical error lawyer at (215) 569-0200 with questions or contact us online to schedule a free case evaluation.